Calgary Wills And Estates, Business Litigation And Real Estate Lawyers
For over 100 years, the lawyers at

Ridout Barron

(formerly Barron and Barron) have provided legal services for clients in Calgary and the surrounding areas, maintaining a high level of integrity and skill. Our diverse practice includes wills and estates, corporate and commercial law, business litigation and real estate.

We know that coming to a lawyer to solve your problems is a difficult decision to make, and many of our clients are unsure of what to do. Whether you contact us in regard to a lease, lien, contract dispute, will or other issues, we will take the time to get to know you and your situation thoroughly, give you a realistic appraisal of your case, and explain your options while keeping your bottom line in mind.
Service And Flexibility
At Ridout Barron, we believe in communication, creativity and flexibility. Our Calgary business litigation lawyers, for example, know that some cases may require intensive negotiation to find creative solutions that will preserve business and personal relationships, while others require efficiency to simply solve the problem as quickly and cost-effectively as possible. Some of our real estate clients want to be involved in every step of the process; others simply want to sign documents. A few of our wills and estates clients think of writing a will as a simple administrative task, but for many others, our tact, compassion and extensive knowledge of estate law is essential. Understanding the unique needs of each client is the key to providing good service.
We are compliant with all Covid restrictions and sensitive to various clients' inability to meet in person at this time. We will accommodate this to the best of our ability, whether through phone, online meetings, or outdoor visits.
Contact Us
For more information on how Ridout Barron can help you, contact us at 403-278-3730. Let us know what we can do for you.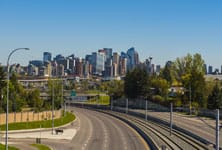 There is free 2 hour street parking at our new location.
We can use video conferencing tools like Zoom, Webex or Facetime in order to meet your needs through online virtual meetings